Serving Downtown, West & East Nashville
---
---
Employment
Parthenon P.U.P.S. is seeking self-motivated, reliable and hard working pet lovers. We are currently hiring for the following positions: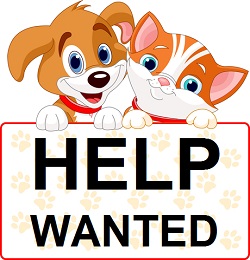 MID-DAY DOG WALKERS:
Must be available Monday - Friday 9am - 3pm
Must be willing to walk dogs in ALL extreme weather (heat, cold, rain, snow, etc.)
PET SITTERS:
Must be available daily from 7am-9am and 6pm-9pm
Must be willing to work weekends AND holidays - INCLUDING Thanksgiving and Christmas.
ADDITIONAL REQUIREMENTS FOR ALL POSITIONS:
Must be at least 21 years of age
Must be able to work with dogs of all sizes and breeds
Must be able to care for ALL types of pets...dogs, cats, birds, bunnies, reptiles, etc.
Must have reliable transportation
Must have a smart phone with internet access
Must be able to accurately follow explicit written and verbal instructions
Must be able to pass a background check
Must be willing to travel to all areas of West Nashville - see our service area list
If you love animals and the outdoors and meet ALL of the above criteria, then please email us for an application and more info. No phone calls, please.

Potential to earn $100-500 per week, dependent on experience and availability.